The Best Donuts in Toronto
"The best donuts in Toronto are getting more decadent by the year. Tim Hortons no longer has a hold on these ringed delights, nor are they just relegated to fare for cops. Donuts today come dipped, drizzled, and glazed with every sweet and savoury topping that can possibly taste good on a ring of fried dough…"
The top 25 doughnuts in Toronto by neighbourhood.
"Machino Donuts is Toronto's destination for scratch-made vegan doughnuts. Flavours on offer include cinnamon sugar, rocky road and apple fritter. "
10 donut delivery options in Toronto for when the craving strikes.
"Donut delivery in Toronto is perfect for when you're sick of avocado and sourdough for breakfast and just want a circle of pure sweetness for breakfast. While Krispy Kreme and Tim Hortons are both doing delivery right now, there's also plenty of local options."
The best donuts in Toronto
"The best donuts in Toronto are always freshly baked, whether light and fluffy or dense and cake-like; the best donuts are the ideal indulgence. Paired with a morning cup of coffee or savoured for a sweet end to a meal, there's never a better time to get away with cake for breakfast than a warm donut… "
The best vegan donuts in Toronto.
"Finding vegan options is getting easier in Toronto, especially when looking for the best vegan donuts. Now classic donut shops in Toronto have decided to expand their menus and cater to the vegan crowd in Toronto…"
The best donuts for take out and delivery in Toronto
 "Toronto has the takeout donuts you need to feed your quarantine. Whether you want a quick pick-me-up, are facing a solo-celebration or are nursing the nagging feeling that the apocalypse may be close at hand, a box of deep-fried, pillowy doughnuts dripping with gooey, ambrosial glaze is a good thing to have at hand…"
8 Toronto Donut Shops With Sinfully Good Treats That Will Have You Feeling Unholy
 "These Toronto donut shops will have you drooling as soon as you step in the door. Packed with fluffy pastries, these spots offer tons of flavours and Insta-worthy treats…"
Machino Donuts Is Serving Unreal Vegan Dessert
 "Calling all vegans with a sweet tooth! Calling anyone with a sweet tooth!! Machino Donuts is serving up amazing vegan donuts in Koreatown, and you do not want to miss out. These sweet treats are served fresh every day and come in a variety of incredible seasonal flavours…"
10 places to get some of the best donuts in Toronto
 " Another plant-based pick on today's list has got to be the delicious vegan donuts available at Machino Donuts…"
5 must try donut shops in Toronto
 "Machino Donuts is a perfect choice if you're looking for vegan donut options!…"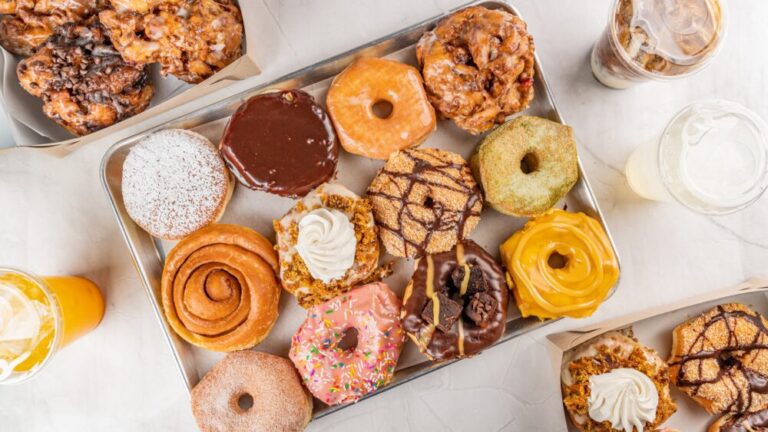 8 Places To Get The Best Donuts In Toronto
 "Machino Donuts are made from plant-based ingredients as well as fried in 100% vegetable oil. Everything at this shop is vegan while still being super fluffy and delicious…"